THE COMPOSER - JOHN ESTACIO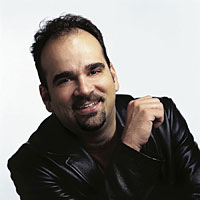 Born April 8, 1966
Newmarket, Ontario
Within the past 13 years, John Estacio has served as Composer in Residence for the Edmonton Symphony Orchestra, Pro Coro Canada, the Calgary Philharmonic, and the Calgary Opera. These residencies yielded several orchestral and choral works including his opera Filumena. He has also written scores for productions of Othello and Twelfth Night at the Citadel Theatre.
Estacio studied music and composition at Wilfrid Laurier University and the University of British Columbia. He began his professional career after receiving an award in the Winnipeg Symphony Orchestra's Canadian Composer's Competition in 1992. Shortly thereafter, he began an eight year residency with the Edmonton Symphony. His choral work Eulogies received the Association of Canadian Choral Conductors' 1999 National Choral Awards for Outstanding Choral Composition. He has also received the Syncrude Award for innovative artistic direction for the Young Composers Project which he initiated while at the ESO. Estacio has received numerous awards in the SOCAN Young Composers and has twice received SOCAN's Jan V. Matejcek Concert Music Award for being the Canadian composer to have received the most performances and broadcasts of his works in 2003 and 2004.
CBC Records recently released Frenergy, the Music of John Estacio, a CD featuring several of his orchestral works performed by the Edmonton Symphony Orchestra and Mario Bernardi. This CD was nominated for two JUNO awards, including a nomination for Outstanding Classical Composition. The CD received the Western Canadian Music Award for Outstanding Classical Album. His string quartet was also nominated for a JUNO in 2003. His opera Filumena was produced at the National Arts Centre in Ottawa as part of the Alberta Scene festival, and was remounted again at the Banff Summer Arts Festival in 2005. In November 2005, it was produced by the Edmonton Opera; this was the fifth time Filumena had been produced since its premiere in 2003.
In addition to writing music during his residencies, he has also written for the Vancouver Symphony, the Toronto Symphony, l'Orchestre Symphonique de Montréal, the Manitoba Chamber Orchestra, and the CBC Radio Orchestra. This past summer the National Youth Orchestra of Canada toured with his piece The Bootlegger's Tarantella. During the 2005/06 season, the Houston Symphony, Montreal Symphony, Toronto Symphony, Kitchener-Waterloo Symphony, Winnipeg Symphony, Orchestra London, Thunder Bay Symphony, Okanagan Symphony, Red Deer Symphony, Hamilton Philharmonic, and the Edmonton Symphony are some of the ensembles who will be performing his works. He is currently working on his second opera with librettist John Murrell, titled Frobisher, to be premiered winter of 2007.